Lakeview Counseling Ministry
TO INQUIRE ABOUT AN APPOINTMENT, PLEASE SUBMIT THE ONLINE FORM BELOW.
ABOUT SARAH FULFER
I have worked in the field of counseling since August of 2018. I graduated from Grand Canyon University with a master's in Christian counseling and graduated from Angelo State University with a bachelor's in science. I am a Licensed Professional Counselor Intern. My training comes from a variety of settings including 5 years as a teacher in a private Christian school, practicum experience on a crisis intervention unit associated with a hospital, and community involvement with a local agency in Wichita county. 
Much of my experience includes assisting individuals and support groups in areas concerning abuse, domestic violence, sexual assault, trauma, depression, anxiety, coping skills, grief, miscarriage, and self-esteem issues. I offer Christian, client-centered therapy techniques with the inclusion of cognitive behavioral methods. I understand that I should focus on what people believe about themselves, others, and the world around them. I concentrate on the fact that we are all given will power to make our own choices regarding beliefs, thoughts, actions, and emotions. I believe that when we allow the Holy Spirit to guide our decisions, then our perspective of life and how we choose to live can be adjusted in a more meaningful way. 
I place much value in a holistic approach that incorporates the mind, body, and spirit and I recognize that each person holds varying perspectives and needs. I am seeking to assist you in setting and achieving your goals and this can be gained by examining and changing thought patterns that are negative and problematic; as well as exploring feelings and identifying behaviors that are hindering your potential and/or are self-destructive. When we analyze our thoughts, emotions, and actions, we can determine the truth underneath the concerns. This discovery will allow for you to make positive adjustments and then you can live a life full of opportunity. The purpose of counseling is to learn how to have healthier and more satisfying relationships and to live life according to your beliefs and values.
Mission Statement
Our mission is to restore Christ in counseling and reestablish counseling to the church. Jesus knows and cares about all of our struggles. Therefore, the Bible is meant to be preached, taught, and counseled with application purposes in regard to individual people. The body of Christ is a community that God uses for transformation. We want to help bring significant change to people's lives.
"The Lord is near to the brokenhearted and saves the crushed in spirit."
Psalms 34:18
"All scripture is breathed out by God and profitable for teaching, for reproof, for correction, and for training in righteousness..."
2 Timothy 3:16
Counseling & Guidance
We are not exempt from the conditioning of our culture and because of our community's ever-growing needs and expectations, the leadership believes it is necessary to offer some guidance to clarify what to expect as a whole in terms of counseling.
Biblical guidance deals with spiritual matters that may require private preaching of the word. A licensed professional counselor has been trained in their field, deals with ordinary areas of life such as communication, finances, family matters, etc., and has received additional education in terms of the human brain and psyche. We believe that there are times when a Christian may need the help of a counselor. We do not believe that all counseling problems we encounter in life are a result of a sin.
"As he passed by, he saw a man blind from birth. And his disciples asked him, 'Rabbi, who sinned, this man or his parents, that he was born blind?' Jesus answered, 'It was not that this man sinned, or his parents, but that the works for God might be displayed in him.'"
John 9:1-3
We should not feel ashamed because of feelings of depression and the need for either professional counseling or even biblical guidance in order to move forward. We want you to know we care for you. We are committed to getting you the professional counseling or biblical guidance that you need.
Christians need to be teaching and disciplining their minds and bodies in accordance with the word.
"Rather train yourself for Godliness; for while bodily training is of some value, godliness is of value in every way, as it holds promise for the present life and also for the life to come."
1 Timothy 4:7-8
Christians are to be working on bringing forth the wholeness of their lives – thoughts (2 Cor 10:5), words (Eph 4:29), and actions (1 Peter 2:11-12) – into conformity with Christ since we are to offer all of our all to him as living sacrifices (Roman 12:1-2).
Biblical Basis
Individuals seeking counseling services from Lakeview Church are assured that all counseling will be conducted in accordance with the counselor's knowledge and the understanding and application of scripture to the issues of life.
Role of Medicine
It is not within the scope of professional counseling to diagnose, prescribe or to advise to discontinue using legal medications to any counselee. No counselee taking legal medications should make any decision about medication without first consulting with their prescribing physician.
Termination
It is our ultimate goal that each counselee will complete the intended timeline of session work when they have gained the ability to put acquired principles into practice for growth and positive change, not only for the issue that brought them to counseling, but also for any future issues.
Other than graduation, at any time sessions can be discontinued by either the counselee or the counselor. If either of us is unsatisfied with the progress being made, then I may make a referral for you to consult a therapist, psychiatrist, or physician to ensure a different direction of treatment is or is not needed.
The counselor reserves the right to end a session or discontinue sessions as he/she deems necessary.
Limitations
We will also make referrals in situations when we feel like the client's needs are beyond the scope of practice or abilities.
Confidentiality
One of the most essential elements of counseling is client/counselor confidentiality. This builds a relationship of trust and security. Therefore, all the information disclosed during sessions will not be revealed to anyone without written permission.
By law there are disclosure exceptions which include:
          ➢  A reasonable suspicion that a child (18 and under), elder person (65 and older), or dependent adult (regardless of age) has been harmed by a client;
          ➢  Direct client admission of serious or imminent suicidal threats;
          ➢  Direct client admission of harmful acts or threatened action that is serious, imminent, and attainable against a clearly identified third person or group                 of persons;
          ➢  If a request is made by the court that requires me to release information, then I must comply. I will inform you if this is happening;
          ➢  You waive your privilege to confidentiality if you bring charges against me.
Although sessions are conducted in a friendly manner and are quite personal, the relationship will be maintained on a professional basis. These boundaries will limit conversations outside of sessions. If the counselor sees the counselee in public, protection of the counselee's confidentiality will be maintained by not acknowledging the therapeutic relationship. The counselee is in control of the counseling relationship. If the counselee chooses to approach the counselor in public that will be left to the counselee's discretion. The counseling goals or any therapeutic content will not be discussed in any public place.
Counseling Fees
Fees are based on household size and income. The maximum fee per individual, couple, or family is $75, but can be reduced based on need. We accept cash, debit/credit cards (Visa, Master Card, American Express & Discovery). We Do Not Accept Insurance.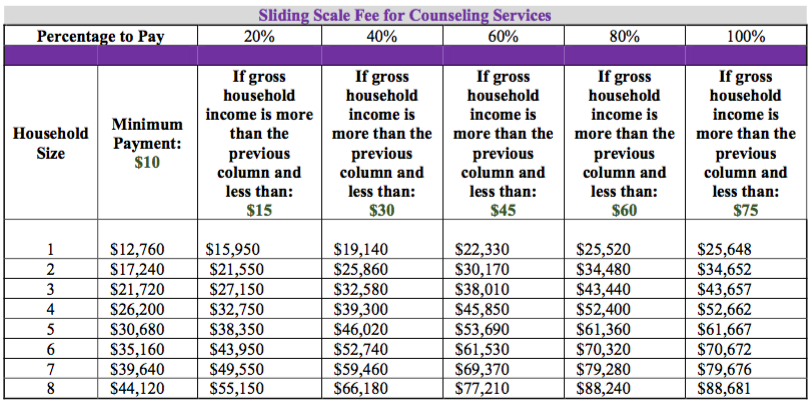 Minors
Counseling sessions are available to ages 15 and up. Information disclosed by a minor to the counselor remains protected and will not be shared with the parent/guardian(s) unless the information falls under a disclosure exception previously mentioned in the Confidentiality section.
*Per the LPC Code of Ethics, prior to the commencement of counseling services to a minor client who is named in a custody agreement or court order, a licensee shall obtain and review a current copy of the custody agreement or court order, as well as any applicable part of the divorce decree. A licensee shall maintain these documents in the client's record.
Conflict Resolution
If a grievance or concern were to rise, we ask the counselee for the first step that should be taken is to discuss the issue with the staff member involved in an attempt to solve the problem. If the grievance is unresolved, the counselee and/or staff member is encouraged to speak to the staff member's supervisor. A verbal complaint or written request will be reviewed by Pastor Daniel Robertson for a final decision.
Disclaimer
Thank you for taking the time to read our Counseling Policies of Lakeview Church. Every effort has been made to accurately represent our services. Therapy is hard work and an individual's, or couple's therapeutic outcome will depend on the client's desire, dedication, effort, and motivation. Lakeview Church reserves the right to change or update the policies at any time without notice. Any changes or updates will be effective immediately. We may elect to notify you of changes or updates by e-mail.