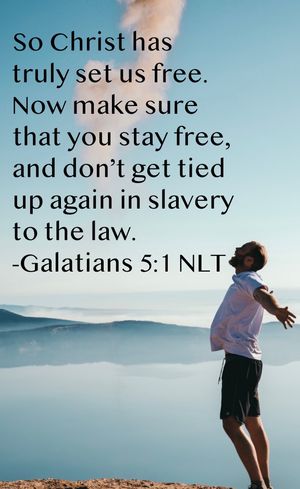 Of course, we understand the letters Paul wrote to the churches were not marked with chapters and verses.  Dividing Scripture into chapter and verse was done as the Bible was printed for the purpose of referencing. Therefore, sometimes a continuous thought was divided between chapters, as it is in the case of our memory verse.  
Galatians 5:1 is commonly read as a continuation of the teaching from Galatians 4:20 through verse 31, and Paul's explanation of Abraham's two sons and their connection to two covenants:   Galatians 4:23-24 NLT "The son of the slave wife was born in a human attempt to bring about the fulfillment of God's promise. But the son of the freeborn wife was born as God's own fulfillment of his promise. 24 These two women serve as an illustration of God's two covenants." 
Towards the end of Chapter 4, Paul's explains to the members of the churches at Galatia they are not children of the slave woman, but children of the free.  And why did Paul bring this instruction? Because of the pervasive teaching that found its way into the churches of this region… the teaching that said that grace was not enough for salvation, but it needed to be coupled with the keeping of the Mosaic Law.  
Galatians 5:1 is Paul's Declaration of Independence for the children of the free woman… because "Christ had TRULY set them free!"  And, if they were absolutely free, the responsibility to remain free would rest with them.  How would they remain free? By refusing to tie to their faith in Jesus Christ the necessity of keeping the dictates of the Law… for Christ has set us free from the curse of the Law being made a curse for us! So, live in the freedom Christ has provided!